Dana Roeser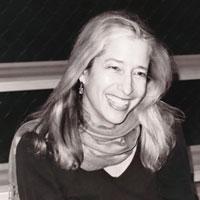 Comments about recent books and readings:
"In the Truth Room suggests the shape and necessity of a life, at once dramatically compelling and immediately believable, one in which children are eating smores while watching a Fawlty Towers video, and Volvos are skidding on ice, and people are going to 12-step meetings, museums are being visited, and jobs and essential human relationships hang in the balance. . On the face of it, the story at the center of the book seems archetypal: a daughter in midlife making sense of ongoing experience in the wake of her mother's death while dealing with substantial crises and, eventually, undertaking what amounts to a pilgrimage. The overarching theme is individual, feminist, contemporary: how does a woman know herself apart from convention and duty? Certainly the intense poems about the mother are key to this theme. But In the Truth Room is less about one life than a fabric of interwoven lives: four generations of family, friends, dear ones, present and departed-I would be hard-pressed to name a poetry book that develops and displays affection for more characters, or, for that matter, one that contains more life."
from the introduction by Rodney Jones
"Dana Roeser's second collection, In the Truth Room, is a face-to-face with those propulsive forces that shape contemporary life: the push and pull of a difficult marriage, raising children, the deaths of parents and friends. An eye for poignant detail and a gift for seeing the metaphorical possibilities of the everyday characterize Roeser's best work. Throughout In the Truth Room, the reader feels the pressure of autobiography, the poet's lived experience, conveyed by a persona who is at once familiar and fresh."
Blackbird
"Wry, thoughtful, brooding, navigating seamlessly between future, present and past, between subjective and outer life, Dana Roeser's lanky poems are neck deep in life, and relentlessly intent on learning the truth. She has her own charming and muscular prosody, she tells lively, moving stories, but it is the determined persistence of their very human speaker which drives the poems. They keep drilling into, pushing and prying, trying to find the deepest chambers of experience, where the mystery dwells. In The Truth Room is a wonderful book by a fully-developed and original poet."
Tony Hoagland
University of Houston
Warren Wilson College
"Dana Roeser's edgy poetic voice strikes me as unlike any other. This is urgent, vivid, unsettling poetry-one that has no time for anaesthesia or consolation."
Susan Wicks
"There is an impressive narrative drive in Roeser's work, and her keenly observed, intensely given poems, sometimes leavened with humor, show a fine ear for the precise sound of language and an unerring eye for just the right detail to convince us of her truth. Hers is a strong and original voice in contemporary poetry."
Collette Inez
Columbia University
"In a time so eager to see wisdom usurped by information, it is especially wonderful to come upon poems whose every occasion shines from within: with mind, with candor and with bright consideration. Dana Roeser is one of our most truly thoughtful poets, and I rejoice in the continuing venture of her work."
Donald Revell
University of Nevada, Las Vegas
"Most of what these poems record is dilemma: intractable, mistakenly-wished-for, overwhelming, unsolaced by the old Romantic verities extracted from nature or self-awareness.... Pricked and pulled by doubt, envy, tenderness, self-critique, grief, and domestic claustrophobia, Roeser's protagonist, like the sly poet herself, seems to defeat convention by earnest failure at it.... Yet these accessible, energetic poems are full of quiet insight, usually presented as minor capitulation, major consequences left understated.... What reaches the reader's heart-through the ear, as Frost said it would-is tone: varied, candid, pitch-perfect, inscribed by syntax and lineation. In [Roeser's] rich, undeceived catalogs of the world, we hear 'one soul... taken by surprise'.... Its sounds are indelible, and without precedent."
from the introduction to Beautiful Motion
Ellen Bryant Voigt
"These poems are ultimately triumphant in the face of loss, rejecting expected pity and bitterness in favor of a languishing in everyday details. As an alternative to narrative and logic, these poems are your childhood friends who have linked arms and make a joint effort to walk side-by-side, thoughtless of anything that might prevent their journey and thus, triumphant over any obstacle. The only possible threat to their success is a thoughtless reader. Like all associative poems, diligence is required; after all these are not your associations but those of another you are following. But your diligence will be rewarded handsomely; Roeser's slippery slope line breaks, as well as the frequent joy and celebration in these lines, will make you glad you came along."
Review of Beautiful Motion
Indiana Review
"The poems inside the slender volume feature stunning images of females at every phase of life... a non-fattening, one-size-fits-all treat."
Review of Beautiful Motion
Murray Ledger & Times
"What I love about Dana Roeser's poems is the way they unfold--beginning with the first glimpse; their formal or "razored" look on the page--and how these energetic narratives split into complexities of rhetoric and landscape-- fictions full of characters the poet presents in a full-blown orchestration of the self that is anything but ordinary or self indulgent. Halfway through a typical Roeser poem I find my breathing has been changed--I'm that caught up in the performance and the story. There is a plushly confessional core to the poems, and yet the self-deprecating humor and the velocity--I'd call this Roeser's Voice--save them from any possibility of bathos. Instead, I end up feeling moved beyond measure by this poet's spirit, as reflected in the poems, in the face of failures and unrelenting desire. I'd compare her to David Kirby or Mark Halliday, but I believe she is more artful in her articulations than these poets. A lyric poet who writes narrative poems, Dana Roeser is a poet who transcends classification."
David Dodd Lee
Indiana University at South Bend
"Listening to Dana read her poetry brought me into a vibrant, witty world, where everyday thoughts and feelings are given air to breathe. The images she so artfully crafts reverberate through the mind, and the experience is wholly satisfying. I could feel the audience's engagement with each unfolding verse; this is a testament to Dana's easy, open manner and her absolute commitment to the refinements in her work."
Felicia Roberts
Purdue University
"Dana Roeser's poetry moves sinuously, snakelike, touching a subject here, an image there, swallowing smaller game whole. All of a sudden it jumps wildly around the yard, first here, then next to the fence, then on the roof and whistling down the street. Her mode might seem playful, but her subjects are often dark and ominous; hers is work which seems domestic and motherly at times and then Biblically harsh and direct, as it captures the frenzy of trying to do the right thing, as parent and child and spouse, then goes well beyond the nagging gates of worry and self-absorption straight into the inner chambers of poetry, where the spiritual life walks calmly along, where the beauties of the world are beautiful even though we lose them. Roeser is not afraid to laugh, to mimic, to mock, not afraid to confess the blues, and not afraid to tell the truth. "
David McAleavey
George Washington University