Dana Roeser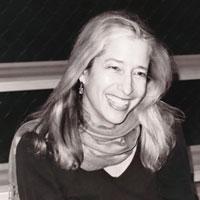 Acclaimed poet Tony Hoagland says that "Dana Roeser's lanky poems are neck deep in life, and relentlessly intent on learning the truth. She has her own charming and muscular prosody, she tells lively, moving stories, but it is the determined persistence of their very human speaker which drives the poems." Rodney Jones, recent winner of the Kingsley Tufts Poetry Prize, says that her "overarching theme is individual, feminist, contemporary: how does a woman know herself apart from convention and duty?" Dana Roeser delivers to us a world filled with cars breaking down, young children throwing up, a mother dying, women in their underwire bras getting struck by lightning-all the usual, casual, catastrophic events of our lives folded together with other foreign objects into a child's crazy King Cake.
Dana Roeser's second book, In the Truth Room, was the winner of the Samuel French Morse Prize, judged by Rodney Jones, and was published by Northeastern University Press/University Press of New England in October 2008. It was nominated for the 2010 Poets' Prize. Her first book of poems, Beautiful Motion, received the Morse Prize (judged by Ellen Bryant Voigt) in 2004 and was published by Northeastern University Press that year. In 2007 Roeser received a fellowship in poetry from the National Endowment for the Arts, and in 2005, she won the Great Lakes Colleges Association New Writers Award for Beautiful Motion and the 2005-2006 Jenny McKean Moore Writer-in-Washington Fellowship.
Roeser's poems have appeared, or are forthcoming, in The Iowa Review, Harvard Review, Virginia Quarterly Review, Massachusetts Review, Michigan Quarterly Review, Northwest Review, Antioch Review, Southern Review, Shenandoah, Barrow Street, Indiana Review, Notre Dame Review, Another Chicago Magazine, Passages North, Sou'wester, Prairie Schooner, Laurel Review, Pool, Shade, The Literary Review, and other journals, and on Verse Daily and Poetry Daily. An essay, "Comma Splice and Jump-Cut: On the Line," is forthcoming in A Broken Thing: Contemporary Poets on the Line (ed. Emily Rosko and Anton Vander Zee) from the University of Iowa Press in 2010.
Roeser has received fellowships to Yaddo, Ragdale, The Mary Anderson Center for the Arts, Virginia Center for the Creative Arts, and Le Moulin à Nef (VCCA France). She has given readings of her work at the Bowery Poetry Club in New York (scheduled for February 2010), Purdue University, George Washington University, Sweet Briar College, the Indiana Poetry Festival, Butler University, Chapters Literary Bookstore (Washington, DC), Indiana University South Bend, Southern Illinois University Edwardsville, Marshall University, the Virginia Festival of the Book, eight colleges and universities in the Great Lakes Colleges Association (Denison University, Kenyon College, College of Wooster, Albion College, Antioch College, Hope College, Wabash College, and Depauw University), and other venues. For several years, she taught creative writing at Butler University, and she was a visiting poet at Purdue University academic year 2008-2009. Currently, fall semester 2009, Roeser teaches the graduate MFA poetry writing workshop at Butler.